"SchwarzBunt" (Black/Colored) 2008 in Vienna
PHOTO EXHIBITION IN VIENNA, FEB TO JUNE 2008
In her first photo exhibition "BLACK /COLORED" host and actress Carolyn Aigner reveals a new facet of her live. From two private passions, travel and photography, the Austrian developed a new passion. "blach&white&colored" photographs, which were taken on several journeys.
Aigner's first photo exhibition consists of intimate snapshots and insightful portraits captured on photo in Guatemala, India, Thailand and Sri Lanka.The artistic treatment with black&white elements gave the motives an additional message. They draw the viewer's eye to a particular detail of the photo, which is kept in its original colour - a mixture of "BLACK /COLORED".
Press Corner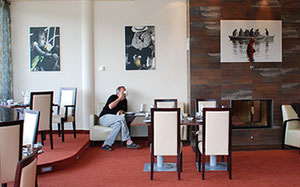 In summer 2009 the exhibition went on summer vacation to Carinthia at the Hotels "Werzers" and "Villa Verdin"