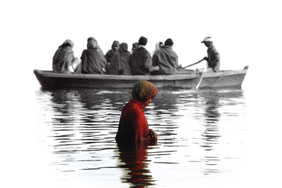 Carolyn Aigner is an Artist from Austria. 
In her early years she was a voice in radio and a face in television. Besides her main jobs she was a Travel-Journalist for Magazines.
In the year 2008 she started to turn her Photographs into an art context and had her first exhibition called "Schwarz/bunt (black/colored)" in Vienna. 
Carolyn's intension is not just about producing pictures that tell a story, but also about experimenting and playing with the medium of photography itself. For example, in the first exhibition "black/colorful" photographs were shown, which were manipulated in color by transforming individual parts of the picture into black and white.
Another exhibition "numbers", which was shown in Vienna and New York, consists of 42 small pictures of various numbers that Carolyn had collected over the years and which were made into a large whole. To name only a few topics.
The latest works deal with the meld.
For one year, the artist has been working on a special technique to transfer photos onto unusual surfaces, thus turning them into unique works of art. "What bothers me about photographic art is that it can be reproduced as much as you like. My photos should not only be visible as ordinary prints, but also be unique pieces created by merging with a natural material. It is a challenge to find the right stone for the suitable motif and to work the stone accordingly, so that the motif can be applied. To do this I take the natural contours of a rock and use them to define an image." 
River Stone Art by Carolyn Aigner